Add our e-Prescriber module to your EHR
Enhance the value of your EHR by adopting and easily integrating the well-established and the only PREDICTIVE eRx solution. No need to develop and support, let us become your partner.
Reduces your costs : The ZRx Prescriber is the most cost effective on the market;
Easy integration : Over 65 EHR integrations over the years;
Meaningful Use ONC Certification;
Surescripts Certification;
EPCS Certification;
Seamlessly embedded in your EHR (2-way integration);
Mobility: With the same integration you can start offering your client a mobile eRx;
Technology: SOAP Web Services.
E-prescribing easy as one two three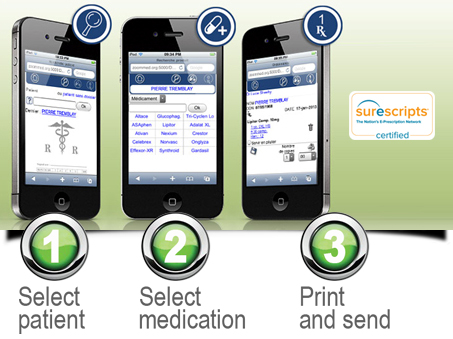 Unlike static e-Prescribers, the ZRx cloud-based Prescriber solution dynamically analyzes each user's prescribing pattern and displays the appropriate expected medication. Furthermore, its PREEMPTIVE features enable physicians to write legible and secure prescription faster than a pen.
World Class Features of ZRx Prescriber
The ZRx Prescriber is intuitive and design for performance; all the needed information is one click away:







Pharmalogical Profile
Active drugs.
Prescribed drugs history.
Drugs to be renewed.
Demograhic information.

Patient File Search by:
File number.
Last name, First name.
Date of birth.
Health insurance number.

Therapeutic Advisor
Drug-to-drug interactions.
Therapeutic duplication.
Therapeutic replication.


Renewal Advisor
Fast and easy way of renewing all of the patient's prescriptions.

Exception Drugs
Fast and easy way of filling the request form or adding payment codes next to the prescription.
Three Steps
Three quick and easy steps:
Select Patient;
Select Medication;
Print and Send.